The use of glass automatically enhances the modern aesthetics of any building. But at the same time the use of large amounts of glass can carry certain disadvantages both in summer and in winter. In summer excessive heat passes through the windows, and this can make the interior rather hot and uncomfortable. This increases air conditioning costs, and in the case of a company or factory, it can seriously impair the staff's productivity and efficiency.
As an architect or property manager you should be very mindful of these effects, both in the short term and long term. Architects and specifiers must understand the specification requirements. The good news, however, is that with the correct spec, buildings can become far more energy-efficient and indoor temperatures can become more comfortable.
So let's explore some of the more effective methods to achieve optimal sun-control.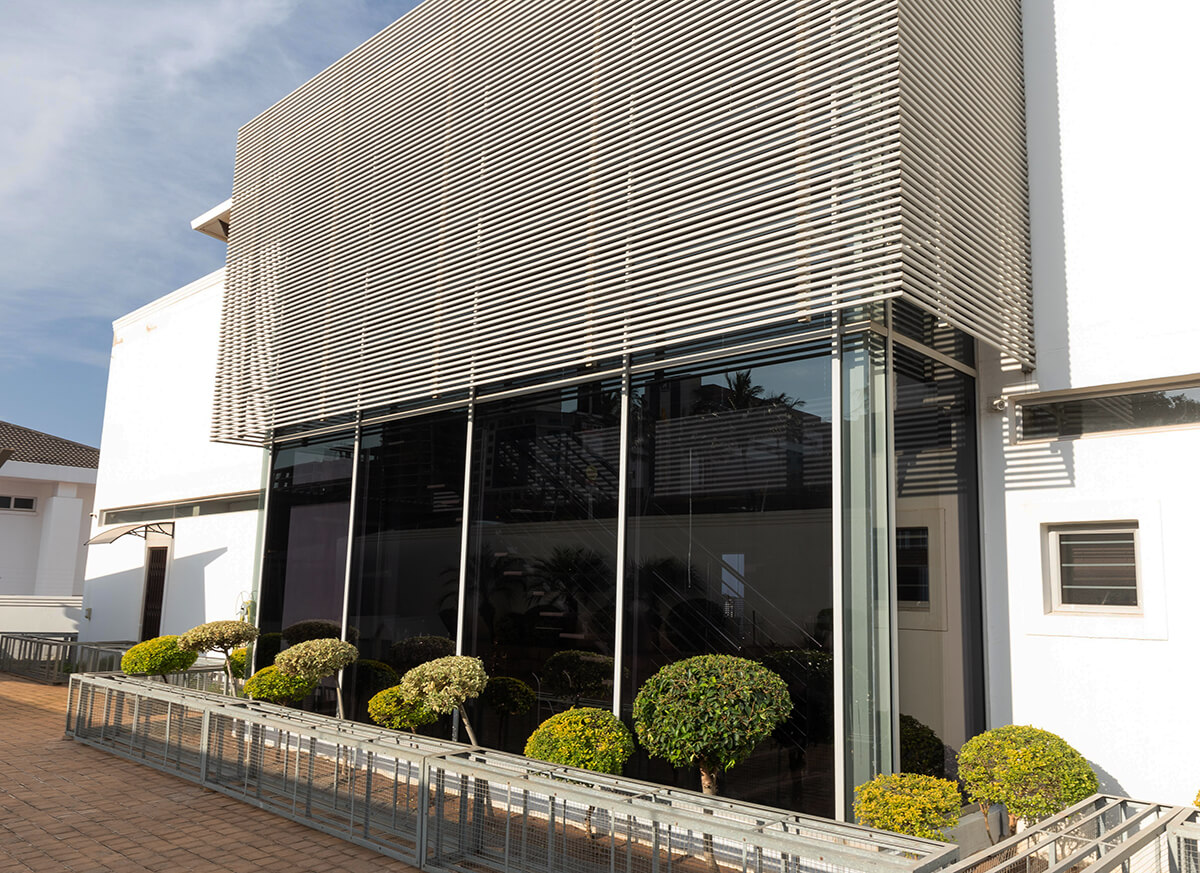 Think ahead and plan early
First it's important to note – the earlier in the design process that you consider shading applications, the more likely you are to create a well-integrated sun-control solution in the overall architecture of your building.
An understanding of sun angles is critical to various aspects of design, including determining basic building orientation and selecting the appropriate shading devices. But before even considering your shading systems, consider the use of natural landscaping, trees and other nearby structures to shade certain exposures to your building.
Surrounding elements aside, you want to strike a good balance between light and heat in the building. As a general rule of thumb, you would want to incorporate a generous use of glass, but not more than is necessary. Still, if the design calls for it you'd be happy to know that there are various shading solutions available to reduce solar gain in the building.
A variety of options
Some of the more popular options that can help you achieve indoor shading, cooling and energy efficiency are sun control louvres, solar control glass, window films and interior blinds. These can be as functional as they are aesthetically pleasing. You can also tactfully apply combinations of these technologies for maximum effectiveness.
Here we will explore two of these options in more depth: solar control glass and sun control louvres.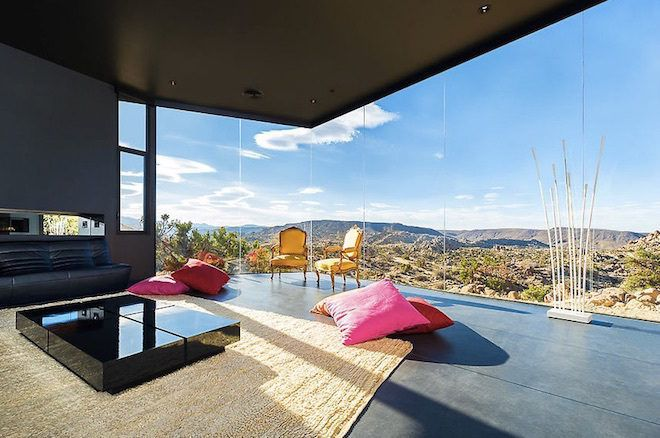 Solar Control Performance Glass
Energy-efficient glass is a highly effective solar control solution. Also called sun control glass, energy saving glass or eco-glass, this type of 'performance glass' has been developed to greatly reduce the amount of heat passing through your windows.
When we talk about solar control in glass, it's actually a broad category that can include tinted glass, reflective glass, double glazing, as well as varieties of the high-tech low-e (low emissivity) glass.
Tinted glass helps to reduce the amount of heat and light that enters the building. Glass with a reflective coating technology, on the other hand, actually reflects heat off the surface of the glass back to the outside.
Low-E glass is specifically designed to minimize the amount of infrared and ultraviolet light that passes through, without minimizing the amount of light that enters through the building. This glass has a microscopically thin layer of transparent coating of silver or other low emissivity material. This layer helps reflect long-wave infrared energy (or heat) before they pass through the windows or doors.
These incredible eco-friendly coatings can effectively reduce solar heat gain and let visible light pass through, allowing for more energy efficiency and more natural illumination into your building.
Click here to learn more about the range of architectural aluminium fixtures that can be fitted with sun control glass ( and other varieties of performance glass )
Such high-performance glazing that has very low shading coefficients can reduce the need for exterior shading devices, but in some cases this might not be enough and you should consider external fixtures like sun louvres.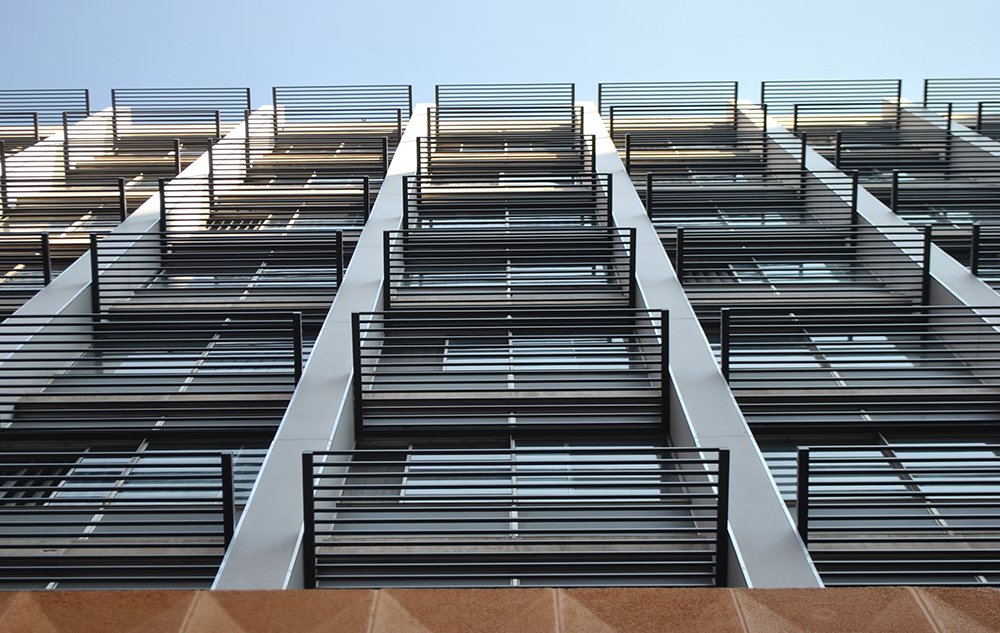 Aluminium Louvre systems
Our extreme South African summers often call for more robust forms of solar control. When architects and property managers need to ensure maximum sun control, they look to sun control louvres.
Aluminium louvres have become a popular solution for commercial and industrial buildings of all shapes and sizes, and are increasingly being specified for modern residential properties too.
Sun louvre systems blend style and functionality, bringing a distinct look to a building's exterior while providing shade and comfort to the people inside.
Available in a wide range of designs, aluminium louvre systems can be used to control the entry of light, to reduce sun glare, or to provide ventilation whilst also maintaining rain defense. In addition louvres systems are used for visual screening, or for a combination of any of these benefits.
When it comes specifically to solar control, a well designed and properly installed louvre structure can do an Incredible job of providing effective shading to a building. And this may indeed obviate the need for other solutions.
Aluminium louvres are generally engineered for vertical, angled or horizontal applications. They can be projected to the building's façade, parallel to the façade or otherwise designed in relation to the angle of the sun.
One of the most renowned sun louvre systems the world over has been developed by Hunter Douglas International, and at Pro Aluminium we are proud to be Hunter Douglas Accredited Agents. This means we can bring you world-class shading solutions customised to the specific conditions of your building, and professionally installed to ensure maximum effectiveness.
All Hunter Douglas sun louvre systems are proven across a range of environmental conditions and they are easy to maintain, ensuring a system that continues to look and perform well over time.
There are three basic types of Hunter Douglas louvres systems, as follows..
Aerofin systems

Aerofin systems feature wing-shaped panel elements, or fins, from extruded aluminium shapes and sizes. They combine optimal solar effectiveness with a sleek, futuristic appearance.
Panel Systems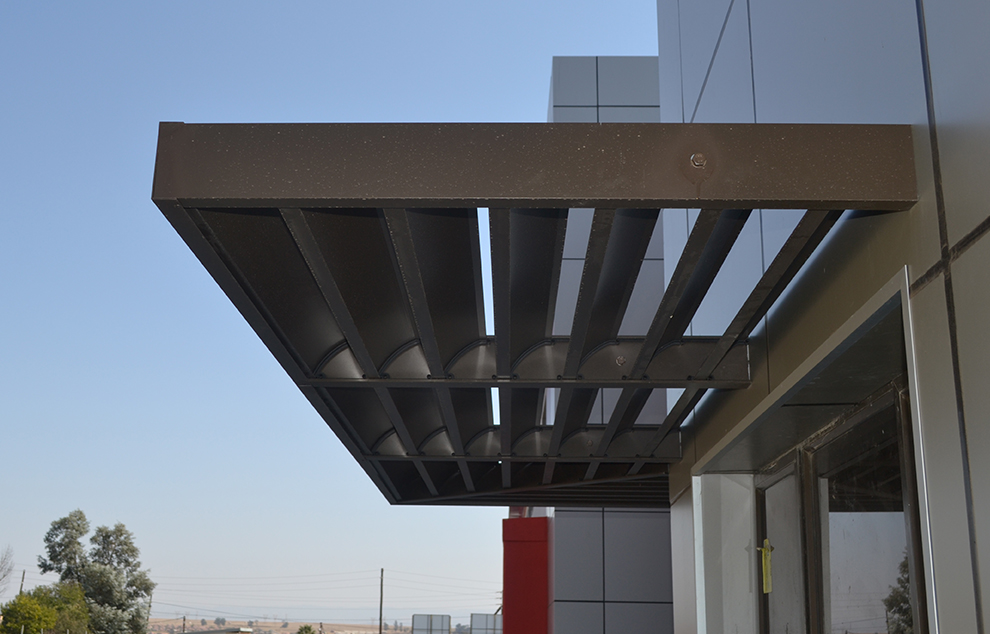 Panel Systems are a versatile, light-weight and cost effective solution to all sun control requirements. They give architects the freedom to choose the right system to meet their aesthetic, performance and comfort criteria.
Filigree Sun Screens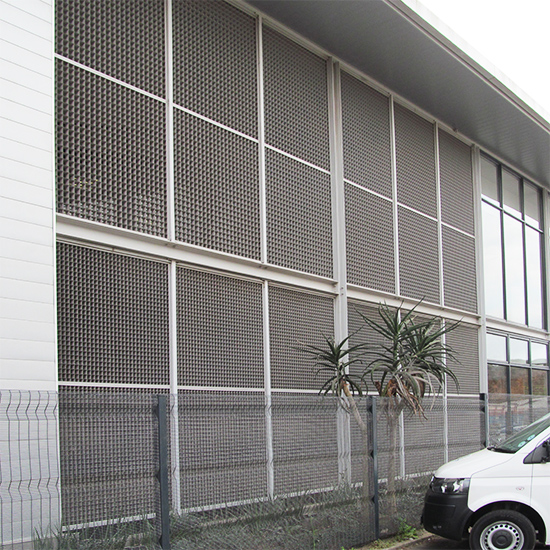 Filigree type screens have experienced phenomenal success due to their aesthetic and functional performance. They can be fitted horizontally or at an angle from the building's face and are one of the most cost effective means of sun control.
Talk to Pro about Sun-Control Solutions
At Pro Aluminium and Glass we have seen an ever growing need for effective sun-control solutions for the construction industry. We realize the importance of energy-efficient buildings, comfortable interiors and beautiful exteriors and take pride in providing these solutions to our clients.
With more than 30 years of industry experience behind us, we know what it takes to deliver on quality and satisfaction on every project we undertake. For advice on sun-control solutions for your building project, feel free to talk to our sales team today.