One of the unmistakable characteristics of modern buildings is the generous use of glass. From expansive glass facades to frameless stacking doors, glass has the ability both to accentuate and to bring versatile functionality to any building.
Glass has become a hugely popular feature for architects, also because of the visual element it adds, with its reflectivity and transparency. Architectural glazing forms an integral component of shopfronts, facades, curtain walls, and balustrades, and of course a wide range of windows and doors.
Whether it is a commercial, industrial or residential property, you would want to ensure when designing with glass, that you pay attention to a few key considerations. For the benefit of our clients, we at Pro Aluminium have taken the time to compile some of the important factors below.
Safety First
As a professional it is most important to pay attention to safety legislation. When you advise glass for windows, doors, office partitioning, or any other elements within a building, you need to make sure that the glass is suitable for the particular placement.
If the wrong type of glass is used, it can lead to the occupants either not being safe or secure. South Africa has a relatively strict national standard in this regard. The National Building Regulations SANS 10400, drawn up by the SABS, and certain building regulations govern the installation of glass in buildings.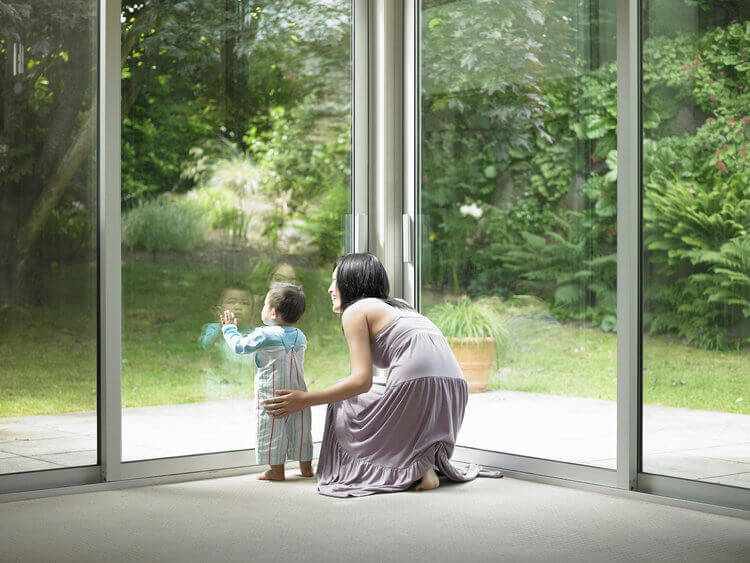 Critical areas where safety glazing must be applied include buildings like schools and public spaces. The regulations emphasise that glazing in any building must be secure and durable, and fixed so that people can see clear glass when they approach it and not think it is an open space; so that wind doesn't break the glass; or that water doesn't leak into buildings. The regulations also say the correct spec of safety glass must be selected so that if somebody walks into the glass they will be as safe as possible.
Also sometimes the installation may call for bullet-resistant glass in shop fronts or commercial buildings such as banks. Sometimes the working conditions of a building may require something like fire rated glass to retard the spread of fire. You can plan ahead and prevent potential disasters by installing the appropriate glass in the specified way.
Interior Brightness
Bright open spaces are now an unmistakable feature of modern buildings. Huge glass windows and atrium style designs are being implemented for commercial and public buildings every day. And this is also due to our realisation that natural light is good for our state of mind, our well-being, as well as for our productivity.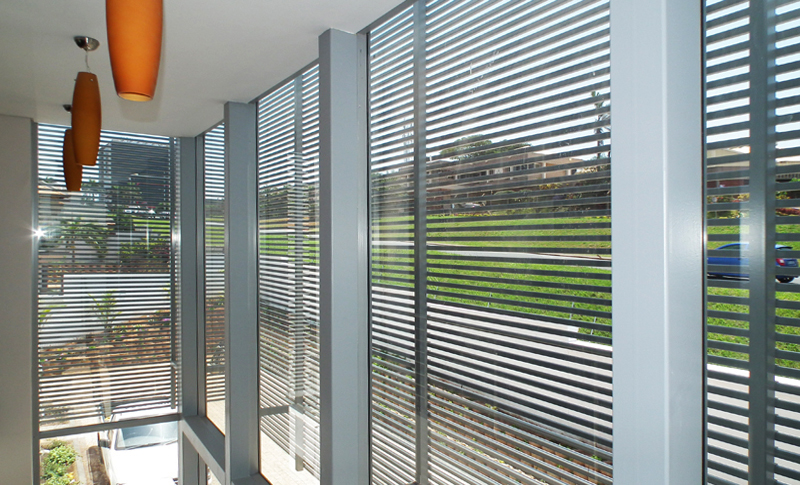 There are a number of ways you can use glass to improve the natural lighting conditions of a building. You can easily brighten up a space by choosing more windows and glass doors, or incorporating larger fixtures like double-volume windows or glass facades. You can even replace interior walls with glass fixtures or doors. Folding-stacking doors and sliding door systems can be used as interior dividers between rooms and corridors.
You can also optimise brightness levels by taking into consideration the placement and direction of windows and doors. And choosing a minimalist frame design can also help brighten up your spaces.
Energy-efficiency of the Building
When incorporating glass into your architectural designs, it is now imperative to consider how this will affect the energy-efficiency of the building. By using more energy efficient forms of glass, your buildings will require less artificial cooling and heating, and thus use less electricity. Specifying the right glass can drastically reduce energy consumption, particularly in larger buildings – think office blocks and malls.
In the past the use of tinted and reflective glass was a lot more popular. These are still used in many cases but the big move is towards Low-E glass and double glazing.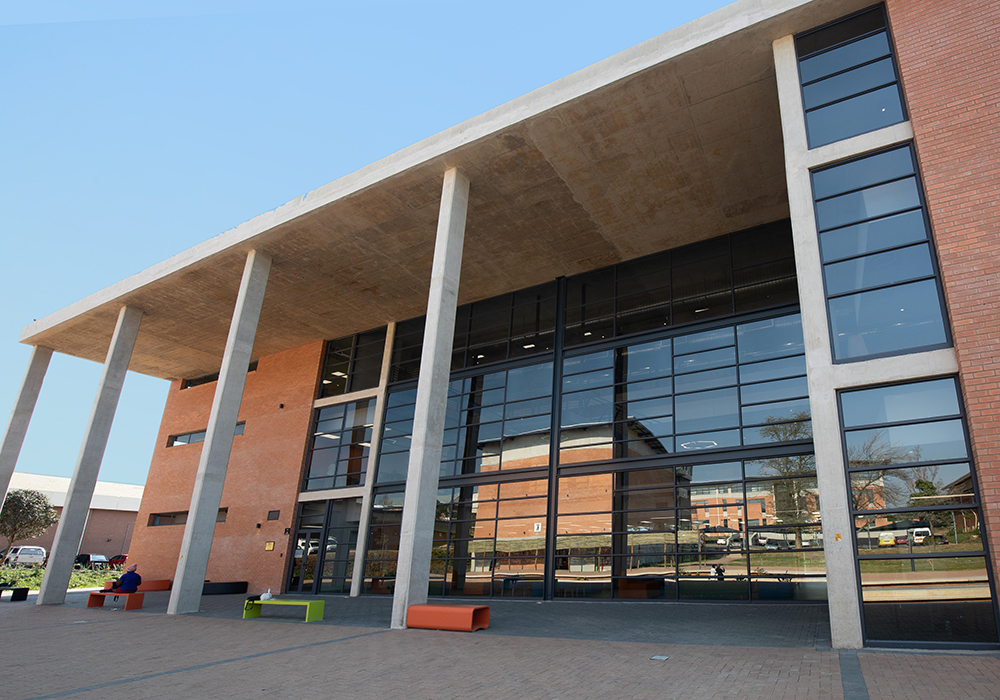 Low-E is designed to reflect heat back to its source. This means that during our long summers you will have less heat entering the building thereby actively reducing the output of fans and air-conditioning. During winter, Low-E serves to maintain interior temperatures by reflecting warmth back into interior spaces. This leads to less usage of air-conditioning and heating appliances and thus reduces the building's energy usage.
Similarly, double glazing with its airtight construction reduces the flow of incoming and outgoing heat. This thermal insulation ensures less use of artificial climate control and thus adds to the energy efficiency of the building. And remember you can also combine the benefits of Low-E and double glazing for optimum results.
The Wind load factor
Architectural glass can help create impressive buildings with beautiful aesthetics. But a storm could shatter windows by the force of its winds alone, leading to damage, loss and injury. So it's important to take wind load into consideration.
'Wind load' describes the forces that the wind exerts on a building or structure. Coastal wind load tends to be higher than inland. Exposed sites are susceptible to greater loads than buildings shielded by trees or other buildings. And you need to take all of this into account when designing with glass. The thickness of your glass will also depend on the size of the glass pane, height from the ground and unique site conditions.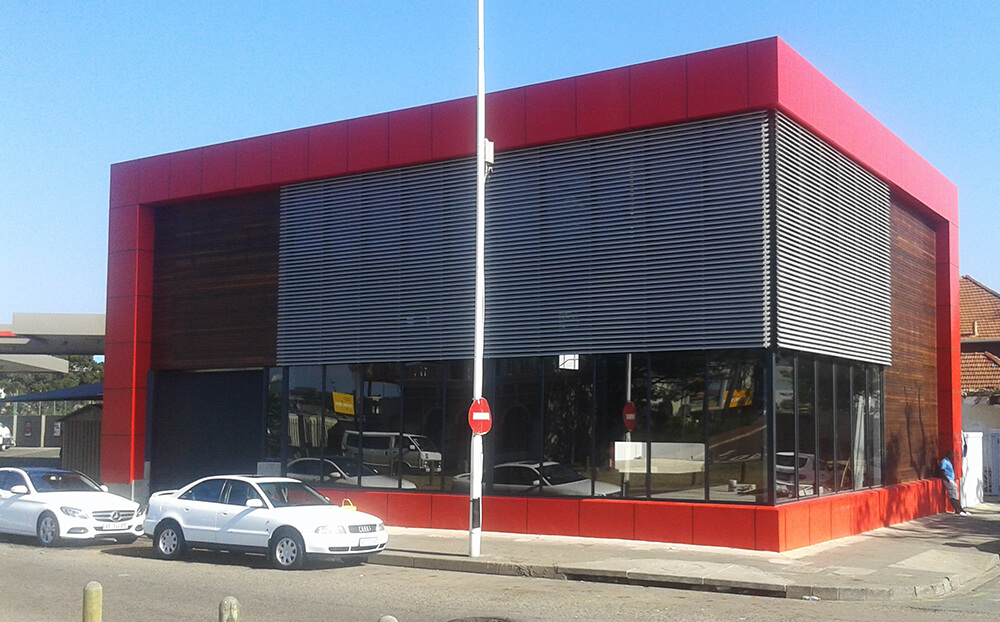 Centre deflection refers to the area in the middle of the glass pane, which will distort the most. Glass can withstand years of centre deflection without failure, but must be of the correct thickness. The support structures and the fixings of those structures also need to be designed to ensure that wind load cannot cause damage or disaster.
Again the SANS 10400 standard defines the type of glass for different situations as well as the acceptable tolerances for deflection and how the glass must be supported on its edges. You will be pleased to note that Pro Aluminium are members of SAGGA, the South African Glass and Glazing Association and we take these regulations very seriously.
Acoustics
Another factor to consider when designing with glass is that of sound transference. Generally glass allows a lot more outside noise to pass through than solid walls.
Acoustic glazing, however, is designed to combat levels of unwanted noise both in homes and offices. It includes a soft plastic 'interlayer' which absorbs sound waves and therefore reduces the amount of sound that can pass through it. Acoustic glass can reduce the level of noise in a room by up to 10 decibels (dB). In effect, a 10 dB reduction in sound means the level of noise is reduced by a massive 50%.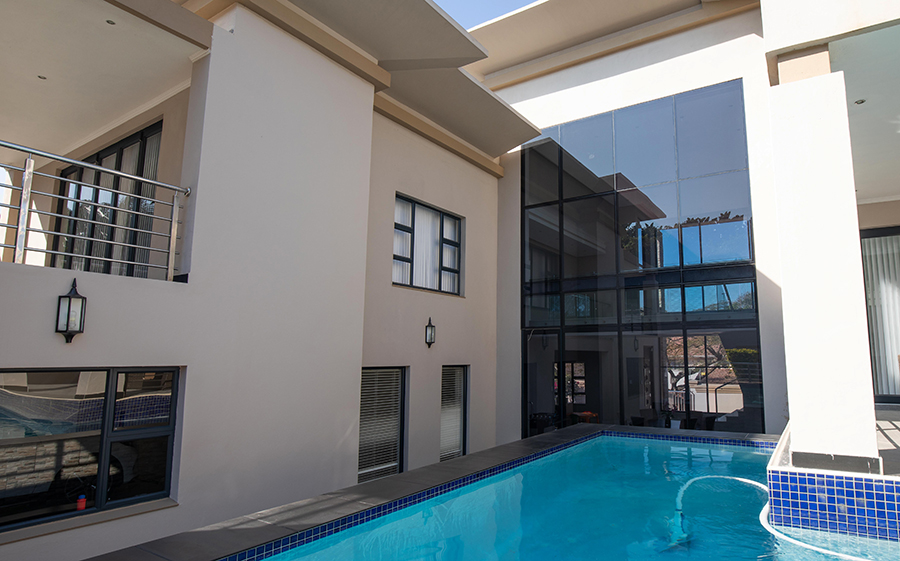 To create quieter spaces you should also consider double glazed windows and doors. When specifying double glazing remember to pay attention to sizes. Huge double glazing units can be troublesome to install for their shear size and volume, but you could install multiple regular / smaller size units in certain areas instead.
Privacy
The beauty of glass is that you can enjoy looking out at your surroundings – but at the same time, if you can look out, then others can look in! When designing with glass, pay particular attention to which way the living spaces or offices are facing. Perhaps it is just facing the yard, or maybe a road or another building?
Accordingly there may be sections of a home where it would be prudent to use less glass. Beyond this you could install skylights or higher windows and still get plenty of natural light with the benefits of privacy.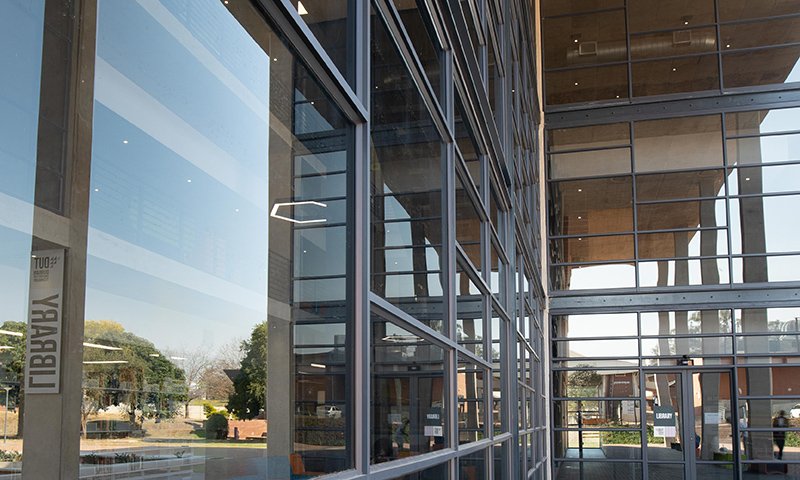 Also consider the opacity levels for your windows and glass doors. Frosted glass is also worth considering. Then there is the option of tinted glass, or reflective glass which are quite effective at improving privacy, and commonly used in commercial buildings and office blocks.
Clear benefits
As you can see there are so many variants of glass each with their own unique characteristics. Designing with glass is both an art and a science. It will benefit you hugely to pay attention to the science and the more technical aspects of glass, so that your beautiful architectural designs can be more functional and add more value to its occupants, and to the property itself. So choose your glass well, and let us know how we can help. Get in touch with Pro Aluminium today (Durban 031 701 2001 / Joburg 010 003 1889) and let's partner on your next project to make it shine!
Ready for a quote? Find our request forms here: KZN / Gauteng.