In today's industrial era, people are showing a greater enthusiasm to convert to a more eco-friendly life-style. It's important to consider the impact of global warming and to become more aware of how you can play your part in reducing your carbon footprint. After all, we want to leave our planet in good shape for future generations.
As a homeowner, you may be wondering how you can make your property more energy-efficient and thus more "green" or eco-friendly. In this article we'll take a look at exciting innovations in glass that can help you achieve this.
Go Green Technology
From solar panels to energy saving bulbs and energy efficient appliances, you are sure to be seeing an ever increasing amount of new innovations which are aimed at making homes – and buildings in general – more energy-efficient.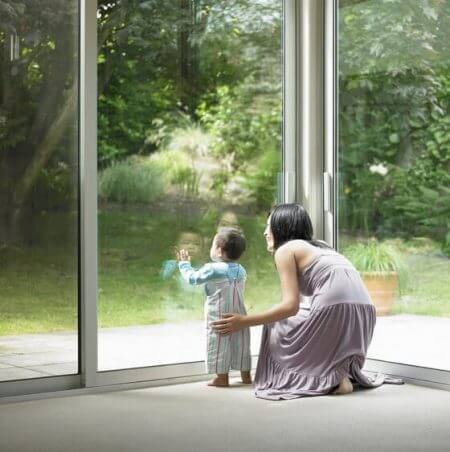 Something you might not be aware of, though, is the huge technological progress that has been made in the glass industry, and how it's contributing towards making our world more eco-friendly!
Green, Green, Glass
In recent years we have seen a steady growth of all kinds of high tech glass popularly known as performance glass. There are various forms of performance glass, and each type has its own unique range of qualities and benefits.
One particularly ingenious innovation has been that of eco-friendly glass. It not only makes a building more energy-efficient, but makes your interior spaces more comfortable.
As we know, in sunny South Africa, our summers can get pretty hot! And many of us have the habit of using our air conditioners to the maximum. But did you know that with eco-friendly glass in your home, you could be using the air-conditioner a lot less?
At the other extreme, depending where you live, winters can get extremely cold. And the warmth in your home can easily be lost through the windows and doors. In fact fenestration is responsible for around 40% of the energy loss in a building. But well specified windows with good insulation and specialised glass can help achieve optimal energy efficiency by acting as a thermal seal.
Tinted Glass
Tinted glass, also called heat absorbing glass, is made by adding colour pigments to the raw materials during manufacture. Standard colour tints include bronze, grey, dark grey, blue and green.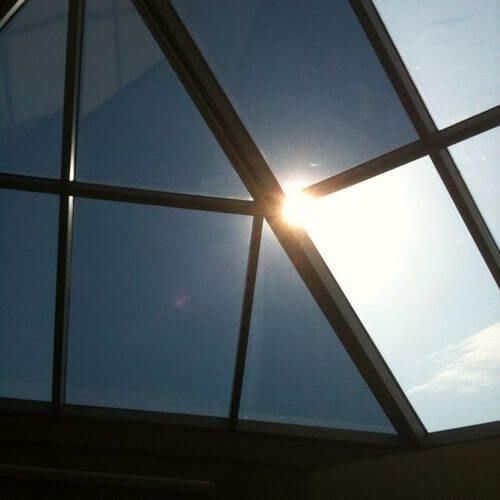 The colour density thickens the glass and reduces the amount of light that can pass through. Because tinted glass reduces the amount of light transmitted, it also absorbs heat.
When your building requires glare control as well as medium solar control, you can use a type of tinted glass called ColourVue. While it may be aesthetically appealing in colour, it is slightly less effective for keeping out heat on its own.
Reflective Glass
While tinted glass helps to reduce the amount of heat and light that comes into your building, glass with a reflective coating, on the other hand, primarily reflects heat. These innovative eco-friendly coatings effectively reduce solar heat gain and let more visible light pass through, allowing for energy efficiency and natural illumination of your home.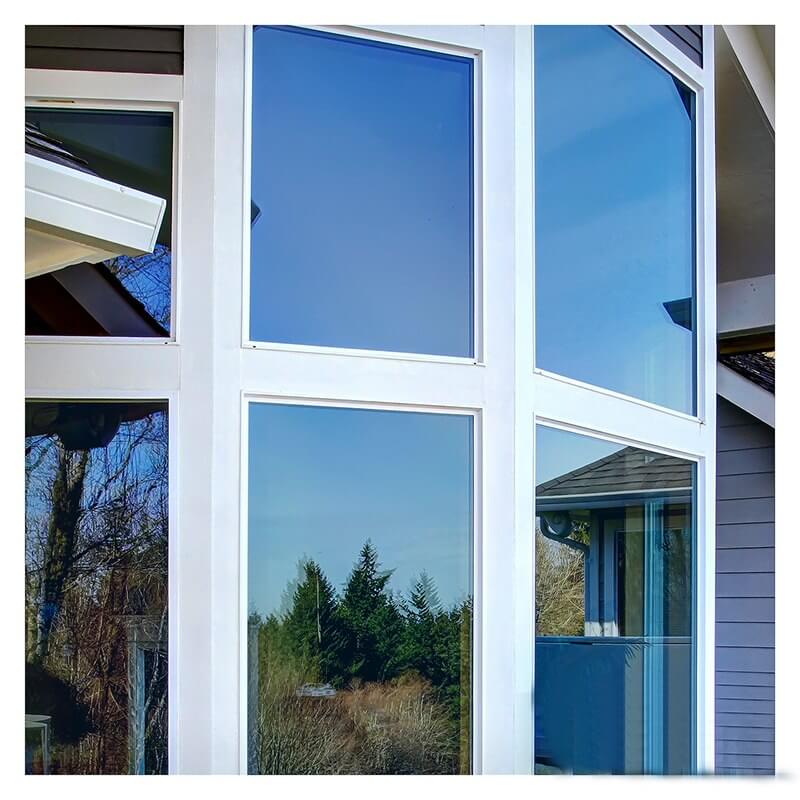 If your home requires medium solar control without a reflective appearance, SolarVue glass may be the solution. Thin depositions of Nickel and Chromium give SolarVue the ability to eliminate more than 55% of solar heat while permitting visible light transmission of more than 45%.
Low-E Glass
Low-E (low emissivity) glass is made with applications of a microscopically thin, transparent coating consisting of silver. There are two different types of Low-E coatings: "passive" and "solar control".
Low-E glass is designed specifically to keep out more infrared and UV light. It reflects low-wave infrared energy (heat) but does not compromise on the actual visible light that it lets through. In fact Low-E glass reflects heat by 26% more than grey tinted glass.
Low-E is unique in that it reflects heat back to its source. This means that on hot days you will have less heat entering your home, thereby actively reducing the output of fans and air-conditioners. And on colder days, your indoor heating is reflected back into your interior. This reduces heat loss and in turn reduces your need for artificial heating. The net result is that you spend far less on electricity costs.
Double Glazing
Double glazing (also known as insulated glazing) can reduce the heat loss of a building by up to 50%. In double glazed windows, two glass window panes are separated by a vacuum (or gas filled) space to reduce heat transfers to that part of the building.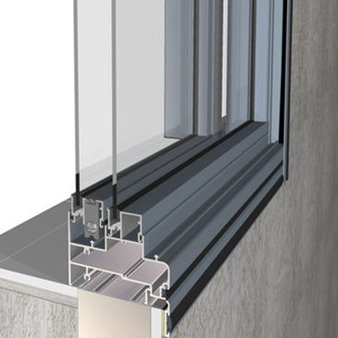 No matter if your property is in the cold climates of the Drakensberg mountains or in the blazing heat of the Karoo, the correct Low-E double glazed window / door systems will regulate the temperatures in your space with less usage of your appliances. In the long run this will work out more affordably, plus benefit the environment – less burning of oil, gas and coal and therefore less carbon emissions.
To go even more green, and ensure optimal energy-efficiency in your home, you can also combine Low-E with double glazing.
Performance Glass from Pro
Energy efficient glass can have you feeling much more comfortable in your home. It'll do your budget a favour and you'll be leaving a greener planet for your children. So when you're building your new home or ordering your windows and doors, ask our team at Pro Aluminium specifically for energy efficient glass for your increased comfort and peace of mind: Durban: 031 701 2001 / Johannesburg: 010 003 1889. We'll be glad to advise you on the best options.
Ready for a quote? Fill out a request form for your province here: KZN / Gauteng.